The Fire Sale Trader, or Last Trader in Ruined Camp, is a rare trader only found in the Trader Inferno camp. He sells a large variety of rare and useful weapons based on tiers, and sells one item of each tier per visit. He cannot be robbed or told to COOL IT.
The camp he resides in is infested with zombies, making it important to reach the trader before he is mauled by zombies, unless the player wants to take a chance at defeating the horde. The trader wields a shotgun to defend himself, and he will drop it on death.
Encounter Text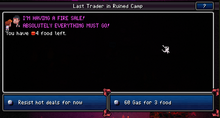 I'M HAVING A FIRE SALE!
ABSOLUTELY EVERYTHING MUST GO!
Not enough food
YOU'RE MY LAST CUSTOMER!
AND YOU DON'T HAVE ANY FOOD??
I GOT OUT OF BED
FOR THIS???!??!!!
Buy item
The group gets an amazing fire sale deal for [bought item]!
Tier 1
THESE DEALS ARE SO HOT! I MIGHT CATCH ON FIRE!
Tier 2
YOU KNOW, I'VE ALWAYS HATED THIS LOCATION! TOO MANY SKELETONS!
Tier 3
WOW! WHAT AN AMAZING FIRE SALE DEAL! WOOOOOW!
Trader runs out of items to sell
SALE OVER! NOW I'M OUTTA BUSINESS
SMELL YOU LATER!
Trading
The Fire Sale Trader's stock is mostly random, with the only thing assured being that he sells one item of each tier. The Blowtorch XL weapon is exclusively sold by this trader.
| Tier 1 | Tier 2 | Tier 3 |
| --- | --- | --- |
| Price: 3 food | Price: 6 food | Price: 10 food |
Community content is available under
CC-BY-SA
unless otherwise noted.