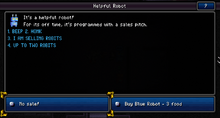 The Helpful Robot is one of two robots (the other being the Menacing Robot) found in the Hidden Laboratory Trader Camp. It is blue, nonthreatening, and offers to sell the character up to two robits for 3 food a piece. It cannot be robbed or told to COOL IT.
Encounter Text
It's a helpful robot! For its off time, it's programmed with a sales pitch.
1. BEEP 2. HONK
3. I AM SELLING ROBITS
4. UP TO TWO ROBITS
Not enough food
It wants 3 food for one.
Buy Blue Robot (3 food)
The group buys a BLUE ROBIT!
Throw it on the ground and it will help you until it runs out of batteries.
Trivia
The Helpful Robot and the Blue Robots it sells yell

HONK!

upon death.
Community content is available under
CC-BY-SA
unless otherwise noted.