Junkyard Pals is an Event that can be encountered while driving. The player must find and safely escort two "Junkyard Pals" who were separated in a standard Junkyard map. To complete the event, you must find the pals and successfully rescue them. Like the Danger Ranger Rescue Event, if you successfully saved both they will reward the group with different bonuses.

Event Text
The group sees two people get trapped in a junkyard by a massive crowd of zombies. They could be saved from their fates, if you distract the horde!
When talking to Clem
Clem asks for help! If you can get him out of here, he'll teach the group everything he knows about car repair.
Things have been bad since our car broke down. It doesn't matter how good you are, cars break down fast on these roads!
When talking to Leonard
Leonard needs help! If you get him out of here alive, he will teach the group some shooting tips.
H..help! I'm freaking out right now!
Results
The group escapes the junkyard!
Clem survives
Clem survives, and shows some great repair tips while he fixes up the car!
[Party] +1 Mechanical
Car's chassis and engine repaired 50-100%

Clem doesn't survive
Clem did not escape with you.
[Party] -1 Morale

Leonard survives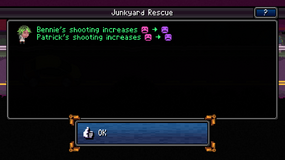 You rescued Leonard. In thanks, he gives the group some shooting tips!
[Party] +1 Shooting
+30 rifle ammo

Leonard doesn't survive
Leonard's adventures have ended.
[Party] -1 Morale

Trivia
Like with regular rescues, any weapons and supplies held by the rescuees will be added to the trunk upon completing the mission. This means that in addition to their regular rewards, rescuing Clem will give the player a Parking Meter, while rescuing Leonard will give them a Cowboy Rifle plus any remaining ammo.
Clem always has 6 Strength, 4 Fitness and 4 Vitality, while Leonard always has 6 Shooting. None of these stats can be seen in the game, however, as neither character can be recruited by any means, even in O*P*P MODE.