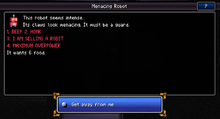 The Menacing Robot is one of two robots (the other being the Helpful Robot) found in the Hidden Laboratory Trading Camp. It is red, intimidating, and will sell the party one robit for 6 food. It cannot be robbed or told to COOL IT.
Encounter Text
This robot seems intense. Its claws look menacing. It must be a guard.
1. BEEP 2. HONK
3. I AM SELLING A ROBIT
4. MAXIMUM OVERPOWER
Not enough food
It wants 6 food.
Buy Red Robot (6 food)
The group buys a RED ROBIT!
Throw it on the ground and it will help you until it runs out of batteries.
Trivia
The Menacing Robot and the Red Robots it sells yell

SHAZBOT!

upon death. This may be a reference to the character Mork from the TV show Mork & Mindy, who popularized the phrase. It may also be a reference to the Tribes game series.
Community content is available under
CC-BY-SA
unless otherwise noted.