The UFO Landing Site is a location and reference to the movie (series) Men in Black. There is a UFO standing in the middle of an open field, with 2 characters close to it. 1 of the characters is the Man in Black and the other character is the Alien. A siege will happen as soon as you get in this location, and the NPC's in the map will help you fight. There is no loot in the map, so you should only choose this location if you want the UFO or ray gun.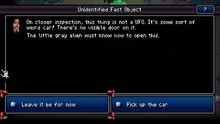 Interacting with the UFO before the siege is over will be useless, since your characters won't be able to find the door. If you have T*L*B on your team, however, the option to pick the car up will be available. Be warned that this vehicle is extremely heavy, and he will drop it after a couple of seconds of holding it.
The Man in Black uses a pistol, and the alien uses the ray gun, which drops if he dies.
If you and the alien survive the siege, you will receive the car keys to the UFO. There is also a chance that the mission leader will be given a skill boost from the Alien who touches their forehead and uses it as a chance to escape.
The UFO (Unidentified Fast Object) is a rare obtainable vehicle. It uses no gas but can still break down and be destroyed. If it does break down, The UFO has the highest mechanical requirement of any vehicle of 6. Even if a party member has this, it is only a chance it will be fixed and it will take a full day.